Imagine No Longer Worrying about Money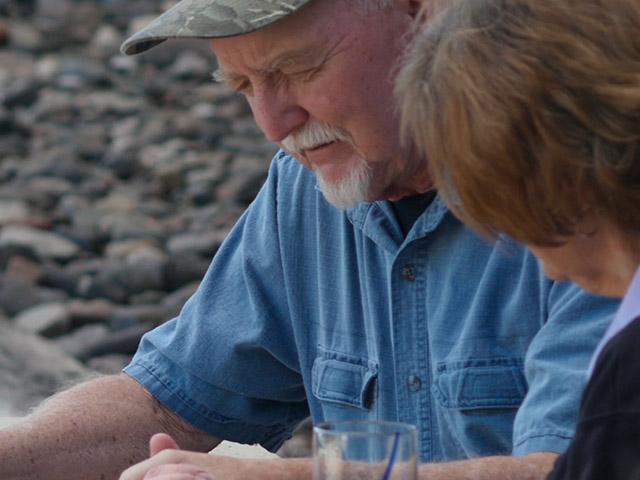 Related Topics
Everywhere John and Cydnia Mahl look in their town of Silver City, New Mexico, they can see John's handiwork. That's because he's a self-taught artist, who's been designing hand-painted signs for more than 40 years.
"You have to have an eye for it," says Cydnia. "Johnny had a really good eye for it."
"I took to it," grins John. "And, it just started from there. It started very small."
From that small start, John's business expanded to include billboard painting, rentals, and digital design. As their income grew, they also tithed faithfully.
"We paid off everything and it was like, I mean, we had it made," John laughs.
After decades of success on the job, John started training his son to take over the business.  He also decided to volunteer his time to their church, which he considered to be their tithe.
"We quit tithing during that time because we were doing this ministry for God," says John. "We were not taking any money."
Soon after, a trusted friend asked them to back him on a construction job.
The Mahls agreed to help, but costs for the project got out of control, and the Mahls had to foot the bill. Eventually, John and Cydnia were facing bankruptcy.
"The proverb says, you know, 'You're a fool if you cosign and you will suffer.' and we suffered," John laughs. "We lost about $125,000 in that project."
"It was terrifying," Cydnia recalls, "and yet there was a part of me that knew I had to trust God."
When the project finished more than a year later, the Mahls were both broken and broke. They forgave their friend, and then prayed about what to do next.
"Three days later, we got a check from some friends for $1,000," Cydnia recalls.
Rather than keep the money, the Mahls decided to give.
"I asked the Lord, 'Where should we sow this?'" John recalls. "And, the thought came back to me, 'CBN. It's good ground.'"
At that point, they made the decision to start giving again. Over the next year, the Mahls say God blessed them.
"We owned a piece of land that we didn't even have for sale," John recalls, "and the State of New Mexico came to us. They gave us an offer that was much more than if we were even going to sell it. Matter of fact, we made almost most of the money back on that one project."
"It was fun every month to see how God was going to provide," Cydnia declares. "And, He did."
Today, the Mahls are debt free and they continue to support CBN.
"I'm always amazed at how much CBN does," says Cydnia. "The ministry they have towards families and children and people. That's the heart of God."  
The Mahls are no longer worried about money. They say the future looks brighter than ever. 
"We just have a comfortable life and it's because of God," says Cydnia.
"We learned how good God is and how true the Word of God," says John. "You can trust those promises: 'Give and it'll be given back to you, pressed down, shaken together, running over… the Lord!'"